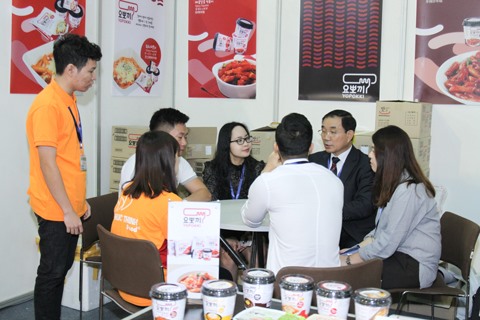 Visitors at South Korea's pavillion at the 2017 Vietfood and Beverage-ProPack held in Hà Nội last year. — Photo Vinexad
HÀ NỘI — As many as 250 enterprises from 12 countries and territories will participate in the 2018 Vietfood and Beverage-ProPack international exhibition, taking at the Hà Nội International Exhibition Centre at 91 Trần Hưng Đạo from November 7 to 10.
About 67 per cent of the products displayed at the exhibition will be processed foods, agricultural products, food additives, beverages and packaged confectionery products. The rest are food processing machinery, packaging machines, packages and bakery production line.
At Vietfood & Beverage - ProPack 2018, besides the core products of Việt Nam such as milk, coffee, pepper and swallow's nests, there will also be the pharmaceutical ingredients, traditional spices and frozen seafood for exports. Famous names such as Ba Vì Milk, Cánh Đồng Vàng (Gold Field), DH Food, TOGICO, Tân Nhất Hương, Khánh Hoà Swallow's Nests and Phan Thiết Fish Sauce will introduce many of their new products to consumers and visitors, proving the attractiveness of the continuously growing domestic food market.
Especially at this year's event, an e-commerce platform for agro-forestry-fishery & foodstuffs (www.gcaeco.vn) will be launched.
GCAECO's platform will apply blockchain technology which creates a chain of trading activities from product traceability, ordering, online payment, transportation in Việt Nam and internationally.
South Korea's pavilion CHUNGBUK TECHNOPARK will present packaged food and drink and traditional specialties such as red ginseng, seaweed, ginseng and rice cake.
The four-day event, organised by the Việt Nam National Trade Fair and Advertising Company (Vinexad), is expected to attract some 15,000 visitors. — VNS

Read more at http://vietnamnews.vn/economy/467927/vietfood-beverage-propack-expo-to-open-in-hn.html#4j3TFxHUrskQezsB.99